Fundraiser wins standing ovation!

Thank you to our first corporate donor Iraq's QiCard

Thank you to everyone who took part and supported Beyond Conflict's first fundraiser, a moving performance of Adrian Snell's "The Cry", a requiem for children lost to war. The event was pretty much a sell-out, with 450 people attending in total at the venue at Windsor Parish Church, Windsor, Berkshire.
The concert saw Beyond Conflict raise awareness about its work to deliver free psychological counselling to victims of war and terrorism in post conflict zones, starting with two projects to help children in Iraq. Thousands of pounds were raised on the night.
We received also our first corporate donations. Thank you to Britain's PwC for its donation and to Iraq's QiCard financial services transaction group for sponsoring the reception.
We are grateful to everyone who came along and supported the concert, a moving and haunting performance of The Cry by Adrian Snell with the Royal Holloway Choir, Windsor Children's Choir and Berkshire Maestro orchestra.
At the event, BC Chairman Ed Newell formally announced the launch of our charity fundraiser and concluded by leading a Naming ceremony and lighting of candles to remember nine children from across the world and history who died in war: including children who died in WW1 and WW2, right up to current day conflicts in Iraq, Syria and Kashmir. The youngest victims were just a few months old.
Composer Adrian Snell gave an impassioned speech on the creative genesis of The Cry and why he has chosen to back Beyond Conflict. He had this to say after the concert:
"I'm…almost speechless! But not speechless enough to say just how thrilled, delighted, overwhelmed I was by Friday's beautiful, deeply moving and inspiring performance of 'The Cry… Most significantly of all, BEYOND CONFLICT has come into being….and I can't think of an organization, charity, vision that more closely fits with the whole theme of this work. What a JOY to be able to harness performances of The Cry to something so very necessary, practical, passionate, and NOW."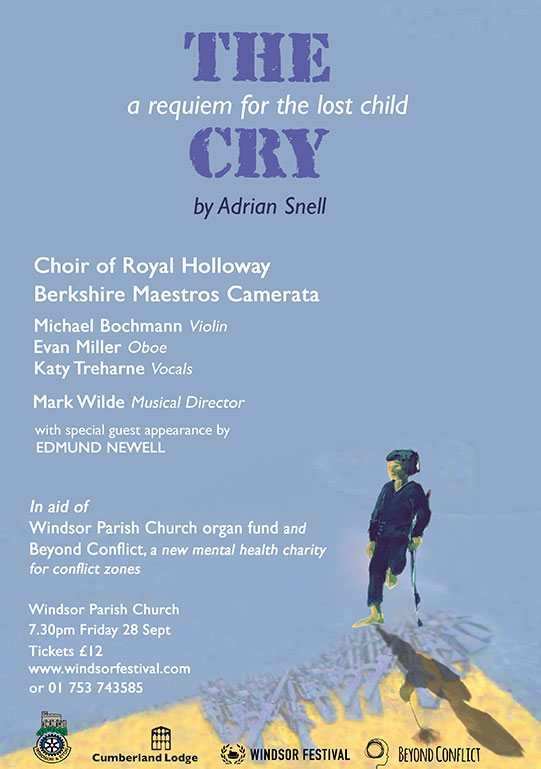 Adrian, we at Beyond Conflict feel honoured to be associated with your work and thank you to our performers: the Royal Holloway Choir, one of the leading groups in the country; Berkshire Maestros Camerata's gifted young musicians and the delightful Windsor Schools Choir. Also, thank you to the wonderful Musical Director Mark Wilde and the hardworking team at Windsor Parish Church itself for welcoming us in.
Our first Iraqi corporate sponsor, Mr Bahaa Hadi, President of QICard in Iraq, had this to say:
"I believe the future of a nation and the world depends on the well-being of the young generations. When we have millions of children affected by war and suffering, our world is threatened. If we don't act now, we are contributing to more violence, low education, unemployment and poverty. This is why I believe Beyond Conflict provides a solution for a huge and forgotten problem and a better future."
The Iraqi Embassy was also represented at the event, with Deputy Consular Mr Mustafa Qasim Radhi telling board members at the reception: "This evening has been so moving. We should be doing a lot on this."
Please forward this story on social media and to your friends and help us conquer the crisis we cannot see that is post-conflict trauma. Also watch the clips on YouTube.
DONATE NOW.
Please click the links below to view recordings of the concert:
http://www.youtube.com/watch?v=ZIwEj8Ig3n8
Can't find what you're looking for?
Get in touch for information and inquiries regarding
mental health, fundraising, or volunteering for Beyond Conflict.
Registered Charity Number: 1176499