Child of War Exhibition premieres Feb 2024
Beyond Conflict (BC) is proud to announce the Beyond Conflict Child of War Exhibition curated by award winning artist Arabella Dorman, in collaboration with the Ukrainian Catholic Cathedral in London.
The mental health charity for victims of war was founded in 2018 in response to hearing first hand stories about the mental health impact of war on children and young people. In this month of Remembrance for those who died in World War I and II, we announce that the first Beyond Conflict Child of War exhibition will premiere on 22 February 2024 at the Ukrainian Catholic Cathedral in Mayfair.
This landmark Exhibition is a response to all children impacted by all wars.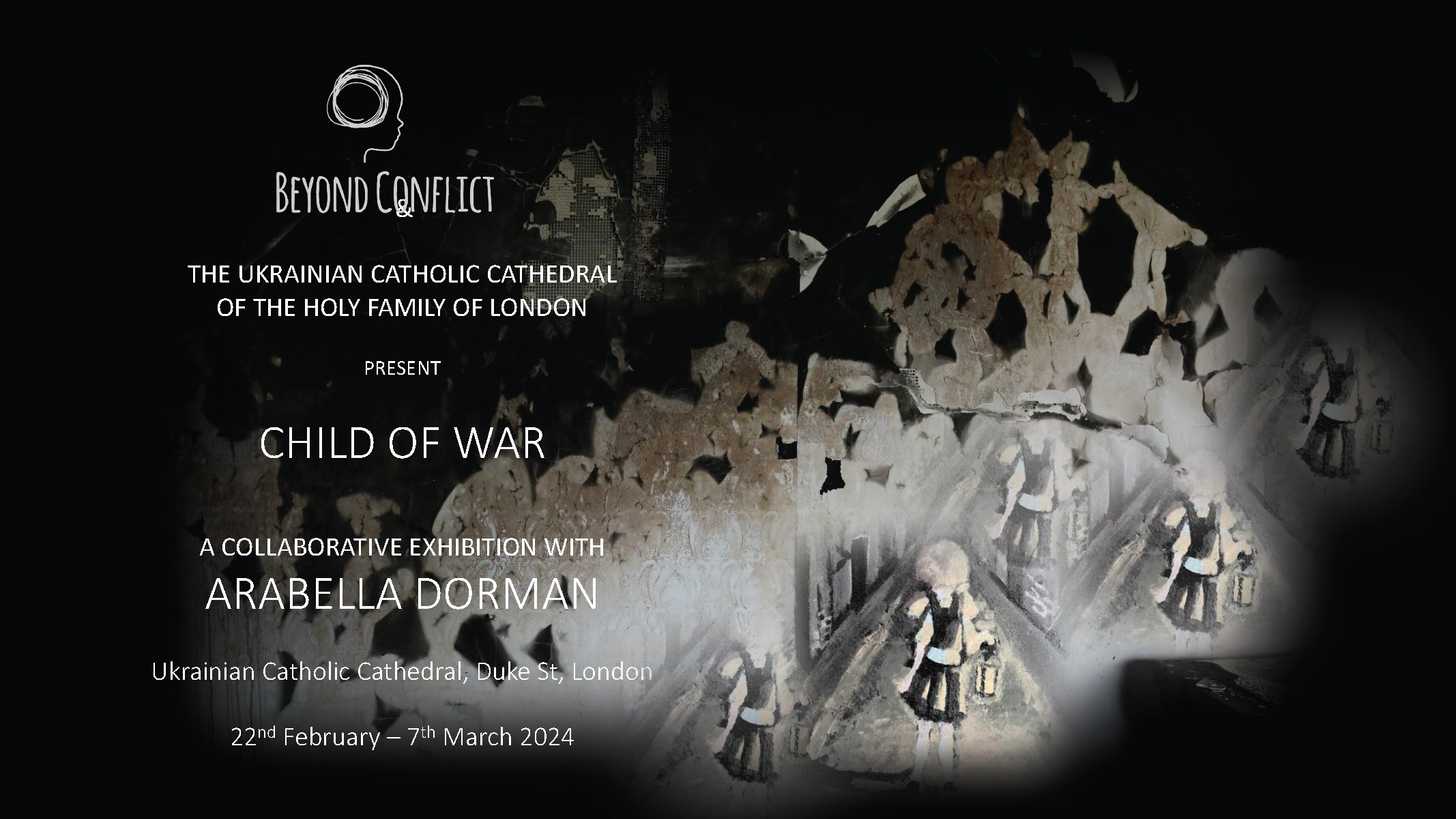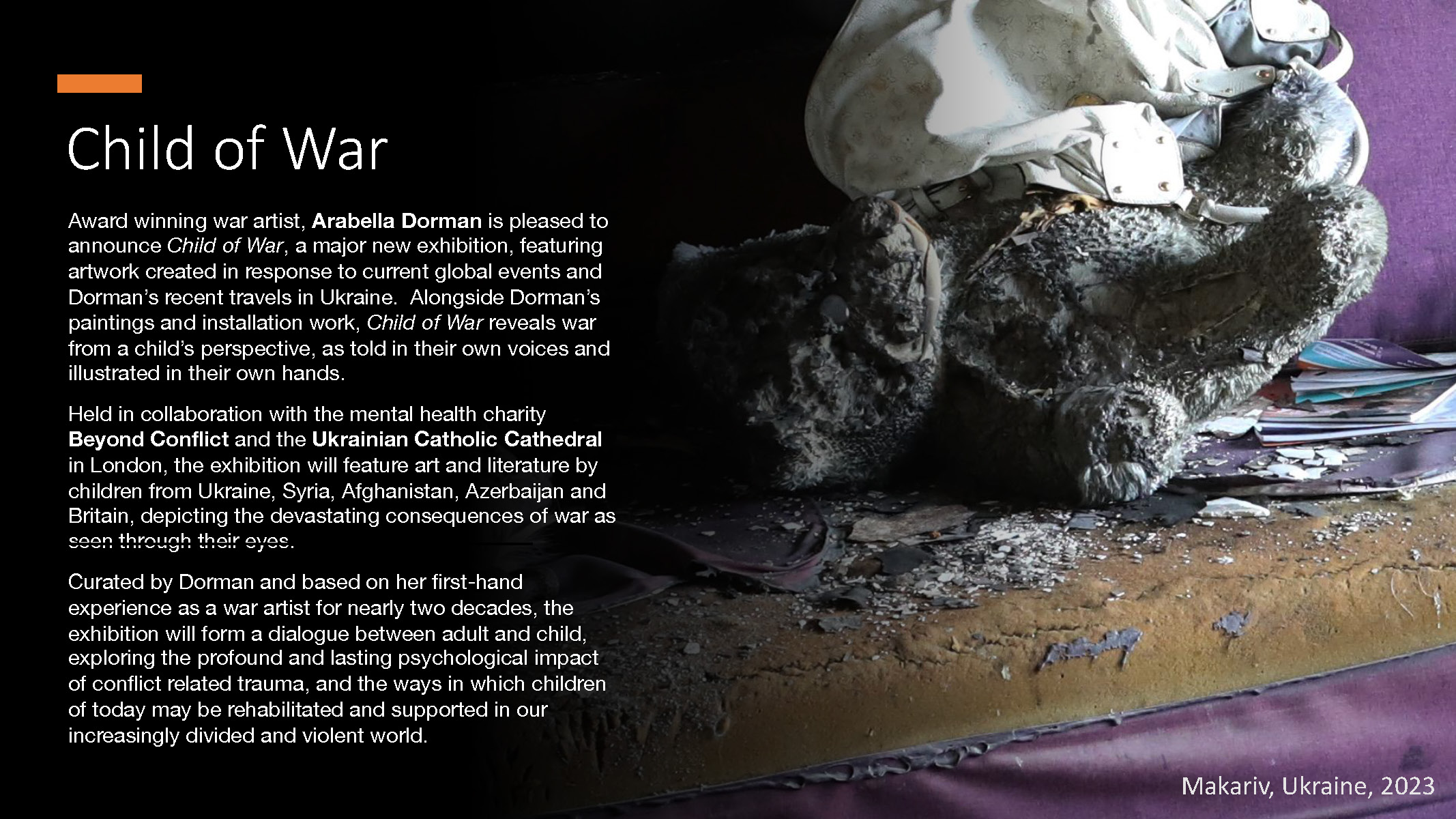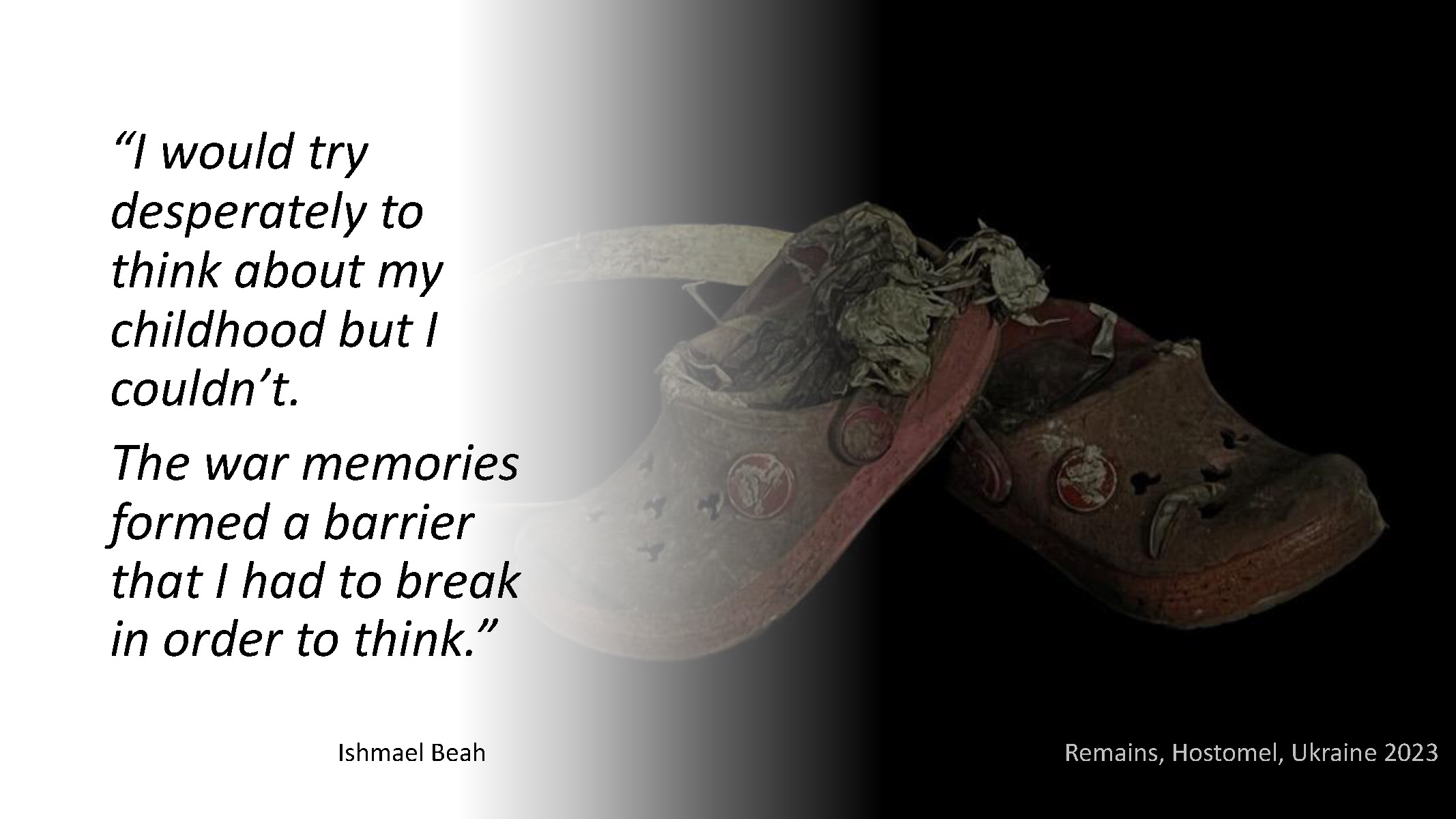 Israel/Gaza Statement
We at Beyond Conflict extend our deepest condolences to all those who have been killed in Israel and Gaza. We deplore and condemn all acts of violence against innocent civilians on both sides. We join voices around the world to demand access to full international aid to Gaza civilians to prevent the humanitarian and conflict crisis escalating further.
As a mental health charity working with survivors of conflict, we recognise the depth of trauma and acute mental ill-health suffered by these innocent victims. We recognise, too, that unless the psychological impact of the conflict is addressed, and with a strong focus on children, it will undermine attempts now and in the future to rebuild trust and reach a sustainable peace.
Beyond Conflict hopes to announce shortly new projects to assist the people of both Israel and Gaza who've been affected by this crisis.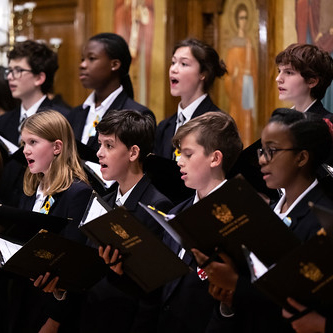 London Oriana Choir, Alleyn's School Choir and other musicians perform a requiem concert at the Ukrainian Catholic Cathedral, London in memory of child victims of the war in Ukraine.
The event raised funds for Beyond Conflict's trauma counselling for mothers and children who have fled to Poland, and for the London Welcome Centre for displaced Ukrainians.
You can see a recording of the event and contribute to the fund via our GoFundMe page . Thank you to everyone who has donated and our thanks go to all the participants and organisers of the concert, who also generously gave so much of their time.
MENTAL HEALTH CONTACTS IN UK
Beyond Conflict provides mental health support to civilians and frontline workers living in the region, not in the UK. However, we are contacted sometimes by people living in the UK who are affected by these crises.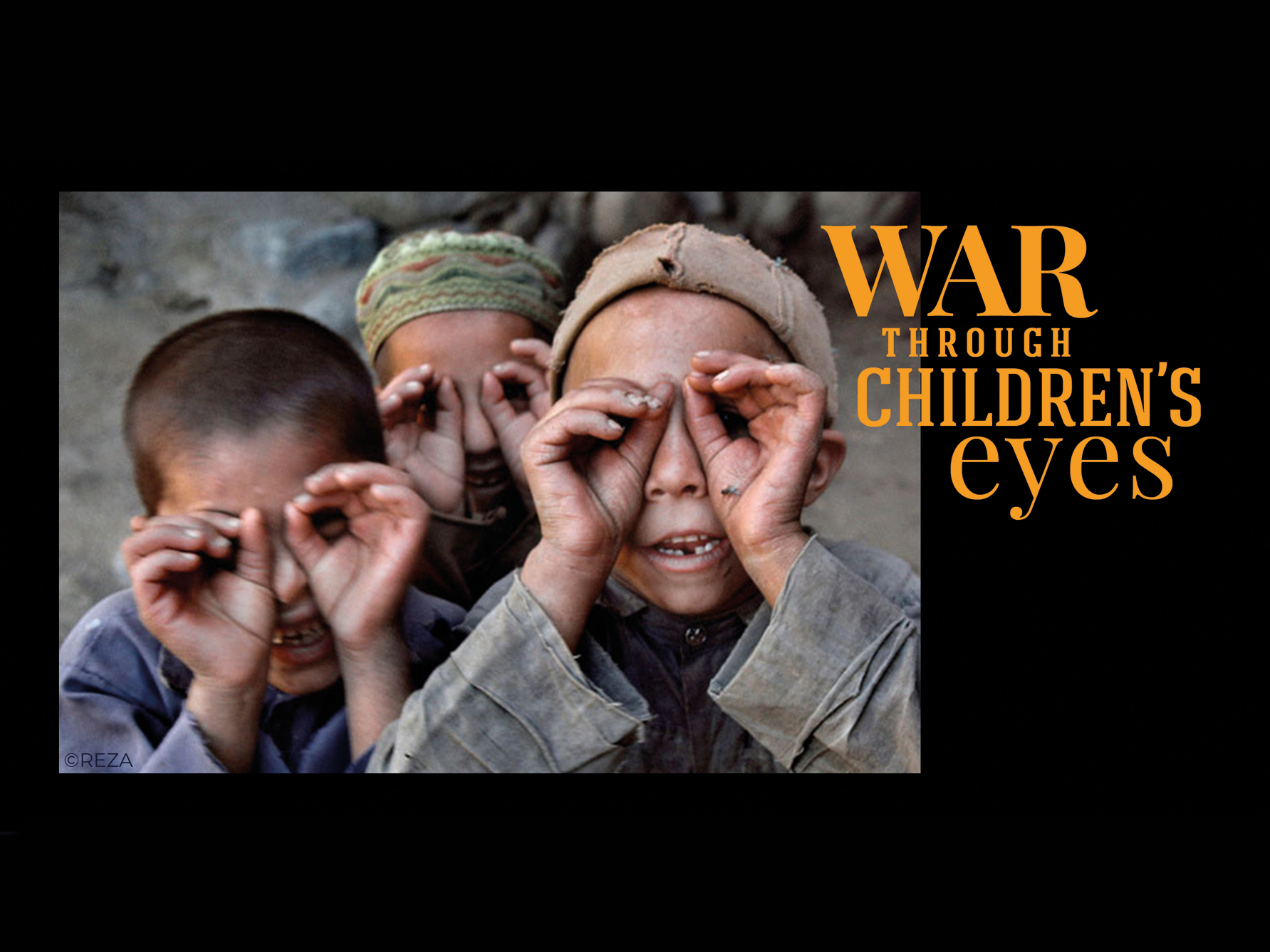 "WAR THROUGH CHILDREN'S EYES" SUPPORTS BEYOND CONFLICT
War Through Children's Eyes (WTCE), the art and writing competition that aims to show how war is viewed from a child's perspective, is supporting Beyond Conflict (BC), the mental health charity for victims of war and displacement this year.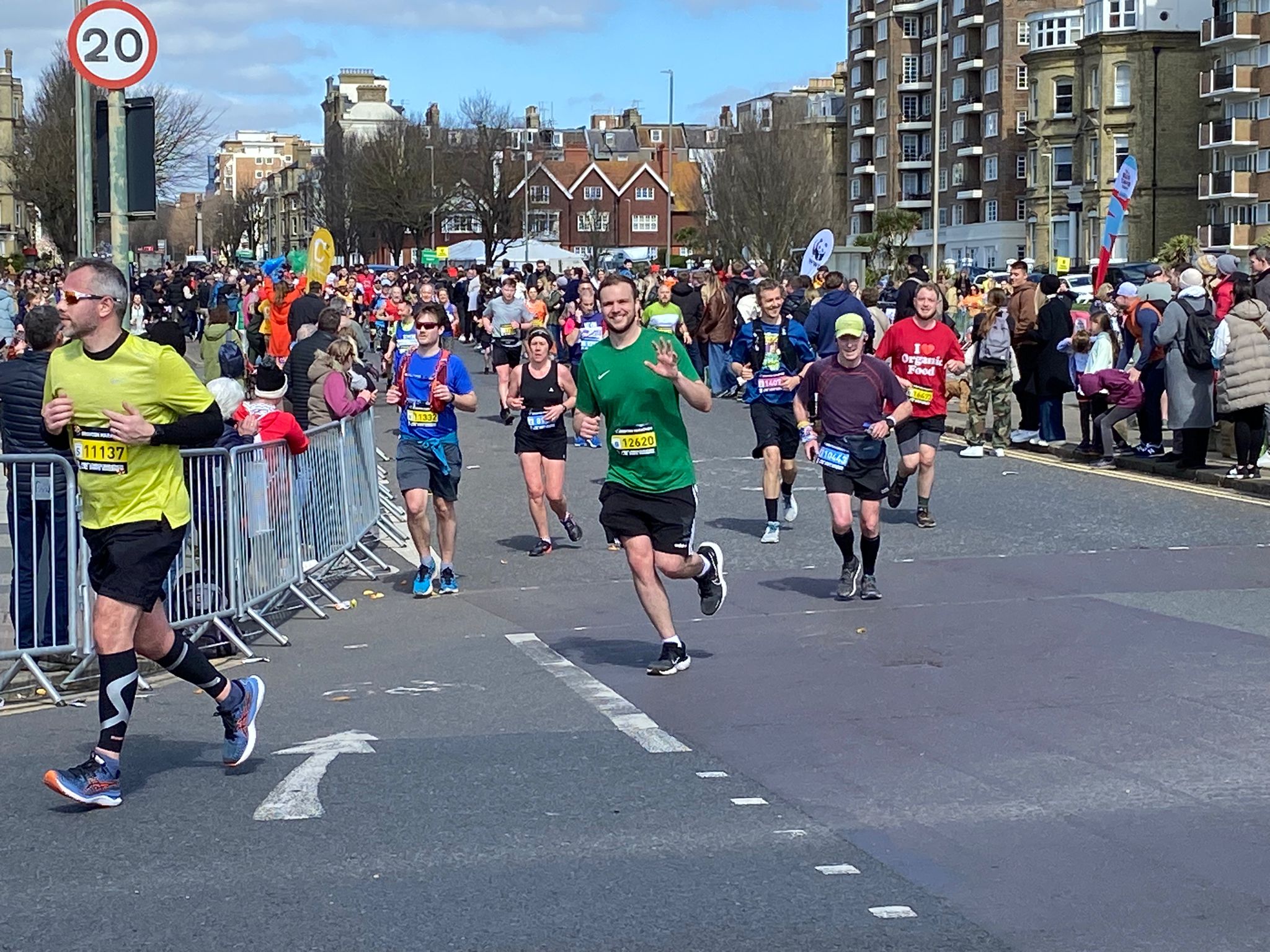 THANKS TO
FUNDRAISING HEROES
As we launch our Mothers4Mothers campaign, a big thank you to those who helped get fundraising kick-started this spring. Thanks to Luke Tomkins, BC Treasurer for running the Brighton Marathon April 2023. He has already raised £1,167 plus GiftAid and counting. You can still donate here.
Welcome To Beyond Conflict
Beyond Conflict is the mental health charity for conflict zones. Our mission is to tackle the psychological suffering of victims of war, terrorism and displacement. We believe there can be no lasting peace without addressing the psychological fallout of war. Right now we are supporting work in three countries: Ukraine, Bangladesh and Iraq.
Working with respected local partners, we deliver free mental support to civilians and NGO frontline workers; training for frontline workers on how to identify and treat trauma. In partnership with some of the world's top experts, Beyond Conflict is working to boost mental health support from the ground up, using remote and face-to-face training. In Ukraine, we are supporting those frontline NGOs offering refugees mental health and other aid.
War, displacement and terrorism have wreaked grave damage on the mental health of millions. Survivors continue to suffer from depression & PTSD long after a ceasefire. The worst hit are children, whose trauma can reverberate down the years.
Ukraine
In February 2022, BC began support for Ukrainian refugees fleeing Russia's invasion and war on their country. With the unfolding crisis expected to lead to millions of refugees, BC donated to frontline NGOs in bordering Poland who are offering psychological as well as humanitarian aid. Children, women and vulnerable elderly people are suffering trauma, PTSD and unimaginable mental pressures after loss of homes and families.
Bangladesh
In October 2020 in Cox's Bazar refugee camp In Bangladesh, BC started work with our local partner Global Development Consortium (GDC). The project helps some of the 1 million plus Rohingya refugees who fled the 2017 Myanmar military-led genocide. Our joint project delivered: free mental health support to frontline workers from 7 local NGOs in the camp; set up an emergency telephone support hotline and a referral pathway to enable frontline workers and refugees to access free psychiatric support in the camp. Those NGO workers support refugees inside the camp and are now being equipped to provide basic mental health support. Phase 2 is planned next.
Iraq
Our third priority is in Najaf, Iraq. At Christmas 2021, BC financially supported our Iraqi partner Al Kawthar, the widows and orphans charity, to provide a series of mental wellness workshops for 60 widows and their families, as well as some help for orphans under the NGO's care.  Al Kawthar is part of the respected international Al-Khoei Foundation. Next, BC and Al Kawthar aim to deliver mental health training to frontline workers from some of Iraq's largest charities.
Ukraine Appeal latest

Proceeds and donations from our recent concert at The Ukrainian Catholic Cathedral, London, are set to rise beyond £5,000. The event raised funds for Beyond Conflict's trauma counselling for mothers and children who have fled to Poland, and for the London Welcome Centre for displaced Ukrainians.
You can watch a recording of the concert and donate here.
Earlier this year, thanks to your generous online donations and cheques sent directly to us, we reached our then target of £5,000. Together with the £4,000 we sent in spring 2022, Beyond Conflict has sent a total of £9,000 to Ukrainian refugees so far this year. We'll update you on the final amount raised from the concert.
Your money will make a difference to vulnerable children, women and elderly refugees who fled the brutal war in Ukraine.
Beyond Conflict's Director Edna Fernandes said: "Thank you to everyone who has donated to this appeal which puts particular emphasis on delivering mental health support to refugees. The psychological fallout from war can last for generations, so support of this kind is necessary and urgent."
According to UN data, summer 2022:
12 million people have fled their homes since the war began
5 million are refugees, the remainder are displaced
every second another child becomes a refugee
and since then, the lastest estimate is that almost 1,000 children have been killed.
UNICEF has stated: "These children urgently need safety, stability, child protection services, and psychosocial support – especially those who are unaccompanied or have been separated from their families. More than anything, they need peace,"
You can help by donating to Beyond Conflict, we are a voluntary charity so 100% of your money goes to the cause. Thank you for your help. 
See what we've been up to!
Visit the Media Hub to see our most recent news, podcasts, and more.
Beyond Conflict publishes the results of Phase 1 of our Rohingya Refugee Project and sets out the Road Map for Phase 2.  Please help us raise money to do more.
Listen to our podcast series, starting with an interview with our Founding Ambassador, Terry Waite CBE.
"Beyond Conflict is providing much needed mental health support to those working with refugees. Our thanks go to our supporters who are making this work possible."
Heal Minds, Change Lives, Restore Hope,
by Edna Fernandes, Co-Founder
"Sometimes clients get terrified explaining the incidents that happen to them. They are mentally traumatised as some saw their mother, their father, brother, sister, babies getting murdered in front
of them."
(A Cox's Bazar frontline trainee on the trauma they witnessed in the camp.)
"This is a lifeline. It saves lives. It saved my life."
Mr M, a frontline worker trainee on the Beyond Conflict/GDC Rohingya Refugee Project
"It's great training. From the beginning i have learned the process of counselling, steps of mobilisation and treatment. We have increased our knowledge on identification, care giving process and counselling and developed session plans for the individuals. We also have improved our passion for the ill or sick people."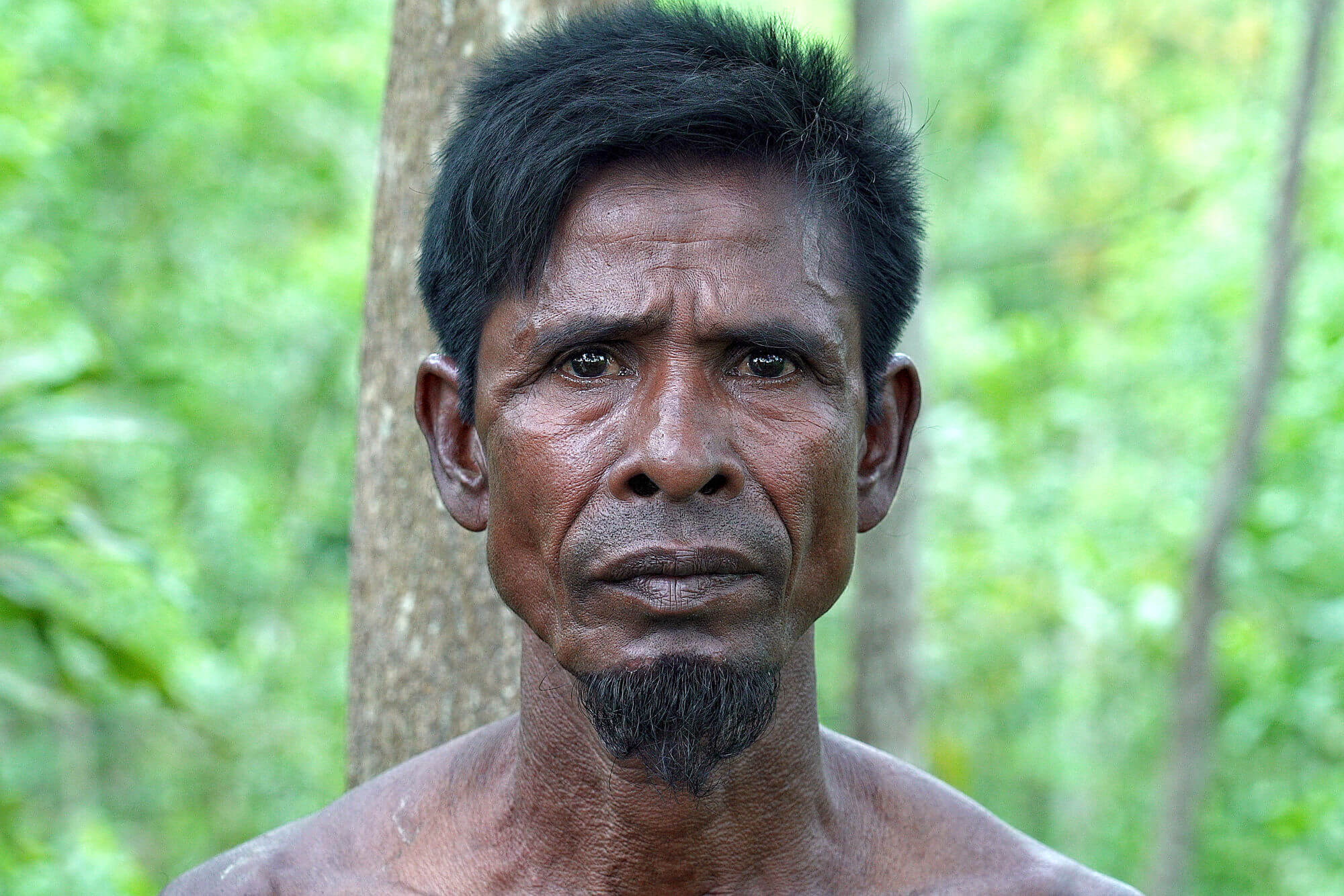 Our latest work focuses on some of the most exploited areas of the world, come and take a look at our reports that touch upon what's happening in these areas and how we are helping the people most in need.
Can't find what you're looking for?
Get in touch for information and inquiries regarding
mental health, fundraising, or volunteering for Beyond Conflict.
Send a cheque to Beyond Conflict, c/o our Legal Counsel Robert Craig at:
Beyond Conflict
c/o RDC
Howard Kennedy LLP
1 London Bridge
SE1 9BG 
Registered Charity Number: 1176499